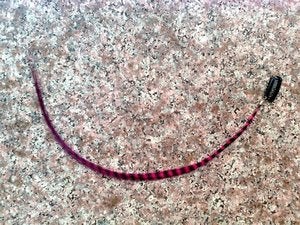 $

8.99
Clip In Alternative Feather Hair Extensions 
5 per pack, 15" long, easy clip in, take out. 
Hot Pink
Turquoise 
Yellow
Lime Green
Purple 
We have designed a humane, cruelty free and environment friendly alternative. We have commissioned a
animal cruelty free and humane manufacturing partner to create a "grizzly rooster pattern" hair extension.
These are made from a hybrid synthetic hair extension.
A great alternative to the killing of roosters!
These extensions are 15 inches in length, feature i tip attachments for easy installation, and can be safely washed, curled , crimped and ironed. ***Safe MAX Temp 330 degrees***
These do not have a spine like the rooster so "loopy curls" cannot be made, they can be flipped out, and also cutting and adding texture with a razor as well as adding product can make for many custom looks.
$8.99 per pack 
$2.50 shipping in USA for 1st .75 cent for ea. adtl.
NO RETURNS ACCEPTED FOR HAIR EXTENSIONS, FEATHERS or any HAIR EMBELLISHMENTS- All SALES Final
Availability
(starter pack- 1 each color) - 48% in stock