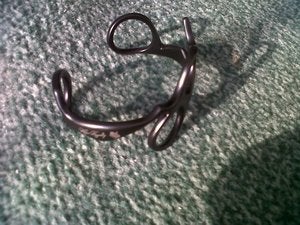 $

59.00 - On Sale
Made from real scissors handles this sturdy and stylish bangle bracelet will be the centerpiece of your collection.
Sure to draw attention! the perfect "piece" to truly Brand Yourself as a Hair Artist! Watch as potential clients approach you asking do you do hair? And as your peers compliment this true piece of art you will be wearing on your wrist!
This piece of art will pay for itself the first time you wear it!
Great for men and women, one size fits most. Slight adjustments can be made to size the bracelet to your arm.
Packaged in a Velvet drawstring bag and Designer gift box!
Each bangle/bracelet also comes with 8 different color accent rings that are interchangeable to create that personalized look.
Finger ring colors are Black, Red, Pink, Purple, Blue, Yellow, Lime Green and Orange. 8 colors.
Hair Royalty crown and script logo are laser etched on one side of the bracelet as well to also show you are true Hair Royalty!
$59.00 (includes bangle, 16 finger rings in 8 different colors, velvet storage/presentation bag and custom gift box!
Shipping in USA $3.25
Intl $6.75
Salon owners, School owners inquire about multiple purchase discounts. Makes Great Gifts for your stylists and students!