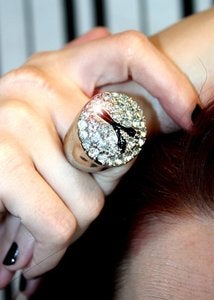 $

20.00 - On Sale
THESE WILL SELL OUT!
This ring is big, bold and blingy!
Reminds me of a sports championship/super bowl ring!
Show your A Champion Winner and show your passion for your art!
Limited to a first run if only 100 rings!
-a quote from a customer posted on facebook-
"Okay. I just wanted to let you know that I received my champion bling ring and...WOW. It is STUNNING! Even better than I imagined, or saw in the pictures! I've gotten TONS of compliments, even from random people in the store (future clients!). :) Thank so much. It's officially my FAVORITE accessory. And I have a looot of accessories!"
We showed samples at the recent Bronner Bros. Intl Hair Show and everyone one went crazy!!
Free silver jewelry drawstring pouch included
Shipping in USA $2.00
Intl $6.00
Availability
Size 6 - 8% in stock

Size 7 - 40% in stock

Size 8 - 40% in stock

Size 9 - 34% in stock

Size 10 - 88% in stock